Lushtums offers a range of antenatal and post natal classes in Bramhall and Poynton.
Lushtums pregnancy Yoga:  for all from 16 weeks pregnancy, or earlier if you are already active. These bespoke classes are suitable for both experienced yoginis and those new to yoga. Classes include breathing and movement practices to strengthen your body, calm your mind and relieve any aches and pains. Pregnancy yoga is known to have many benefits, both emotional and physical.
Prepare for Birth antenatal courses: for you and your birth partner, to inform and empower you as you prepare for a positive labour and birth, and parenthood.
Postnatal Yoga: to help regain your strength and shape and feel great with baby by your side and joining in.
Baby Mindful classes: for parents and babies together to find their calm within our busy world. Based on the Relax kids format these classes incorporate gentle movement, activities and relaxation for parent and baby to experience together. Supporting emotional wellbeing.
Baby Massage: So much more than learning massage strokes for your baby.  Baby massage is an interaction; a gentle communication through nurturing touch, eye contact and a voice that is built up slowly and in synchrony with your baby over time.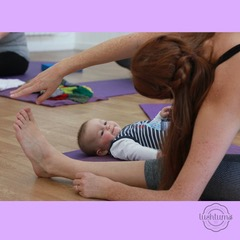 Babies are always welcome, however they might be feeling that day!  Fussiness, noisiness, sleepiness, are never a problem at Lushtums.