Baby Choices offers award-winning baby massage and baby yoga classes, plus messy play sessions. Classes are held at St Paul's Church Hall in Heaton Moor. Classes are welcoming and supportive, led by fully qualified teacher and local mum-of-two Jenni. Jenni has trained intensively with yoga teachers from the Independent Yoga Network and Yoga Alliance Professionals, and classes are approved by the Royal College of Midwives.
Baby Yoga – Thursday afternoons, 12.15-1pm
Your baby will love their very own developmental yoga sequence! Beneficial yoga poses, dynamic movements, fun songs and an element of sensory play for your baby. Plus gentle yoga positions and relaxation time for parents/carers too. 4 classes for £31 including all equipment. A lively, social class suitable for babies from 10 weeks to cruising. PAYG also available.
Baby Massage – Thursday afternoons, 1.30-2.15pm
Learn a traditional massage routine incorporating Swedish and Indian techniques along with elements of Chinese reflexology. The strokes can help to soothe symptoms of colic such as constipation and trapped wind, ease teething troubles, coughs and colds, and help babies to relax ready for improved, deeper sleep. 4 classes for £35 including organic massage oil and support materials to guide you through massaging at home. Suitable for babies aged from 4 weeks up to crawling.
Moves and Mess Messy Play – Friday mornings, 10-10.45am
Class starts with fun yoga movements and group action songs as a warm up activity, and then you and your baby can explore a variety of different sensory and messy activities. Each week we will have different stations to explore such as jelly, sensory items, dress up and water trays plus a paint activity or craft you can take home. This is a fun and lively class, boosting your baby's creativity and curiosity. For 6-18 months, 4 classes for £30. PAYG also available.
07732438645
jenni@babychoices.co.uk
www.babychoices.co.uk
Social
Tuesdays from 10am at Heaton Moor United Church, Stanley Road, Heaton Moor SK4 4HL
Bring your baby along to learn Baby Massage, Reflexology and Baby Yoga techniques to help soothe, bond and have fun with your baby in a relaxed and friendly environment. Classes are led by a fully qualified Massage Therapist/Reflexologist and Baby Massage/Yoga teacher and experienced, local Mum of two. Booking essential.
£65 per 8 weeks which includes-
Supply of organic massage oil, supplementary material to support you at home, refreshments, small class sizes to keep it personal, held in a warm and cosy room, meet other Mums and Babies. Discounts on adult massage and Reflexology for the duration of your maternity leave.
Testimonial
"This has by far been my favourite baby class and I've loved taking my son. Kate is a local Mum with two young children which makes such a difference. Ever since I turned up to my first class with a screaming, hungry 8 week old Kate has been warm and welcoming, making us brews and bringing us biscuits. The little extras provided such as class handouts and oil added to the great value for money. My baby and I will miss the class and our Tuesdays won't quite be the same going forwards. Thank you so much."
Contact details
Facebook: facebook.com/katekingmanholistictherapy
Website: kkholistictherapy.co.uk
Email: info@kkholistictherapy.co.uk
Tel: 07834 269217
Stockport Mumbler endeavours to keep all information up-to-date, but strongly recommends checking details directly with the organiser before you travel.
Lushtums offers a range of antenatal and post natal classes in Bramhall and Poynton.
Lushtums pregnancy Yoga:  for all from 16 weeks pregnancy, or earlier if you are already active. These bespoke classes are suitable for both experienced yoginis and those new to yoga. Classes include breathing and movement practices to strengthen your body, calm your mind and relieve any aches and pains. Pregnancy yoga is known to have many benefits, both emotional and physical.
Prepare for Birth antenatal courses: for you and your birth partner, to inform and empower you as you prepare for a positive labour and birth, and parenthood.
Postnatal Yoga: to help regain your strength and shape and feel great with baby by your side and joining in.
Baby Mindful classes: for parents and babies together to find their calm within our busy world. Based on the Relax kids format these classes incorporate gentle movement, activities and relaxation for parent and baby to experience together. Supporting emotional wellbeing.
Baby Massage: So much more than learning massage strokes for your baby.  Baby massage is an interaction; a gentle communication through nurturing touch, eye contact and a voice that is built up slowly and in synchrony with your baby over time.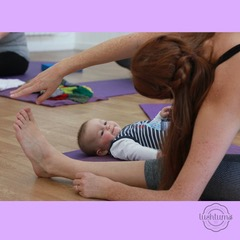 Babies are always welcome, however they might be feeling that day!  Fussiness, noisiness, sleepiness, are never a problem at Lushtums.