17 Buxton road, Stockport, SK2 6LS
Scrum Lily Umptious first came about in 2013, a mum on maternity leave.  February 2015 saw me leave my employment and in June 2015 I opened my shop.  I won't lie it's been hard work but so worth it.
Scrum Lily Umptious create bespoke but affordable celebration cakes and cupcakes, all designed with your theme, budget and occasion in mind. No occasion is too small or too large, we will help plan your special cake whatever the occasion.
Want a wow cake but don't want all the cake to go with it? We can incorporate fake cakes into your design to make this happen.
We also make other goodies – rocky road, scones and fudge to name a few.
We stock a variety of cake making supplies for those that like to bake themselves.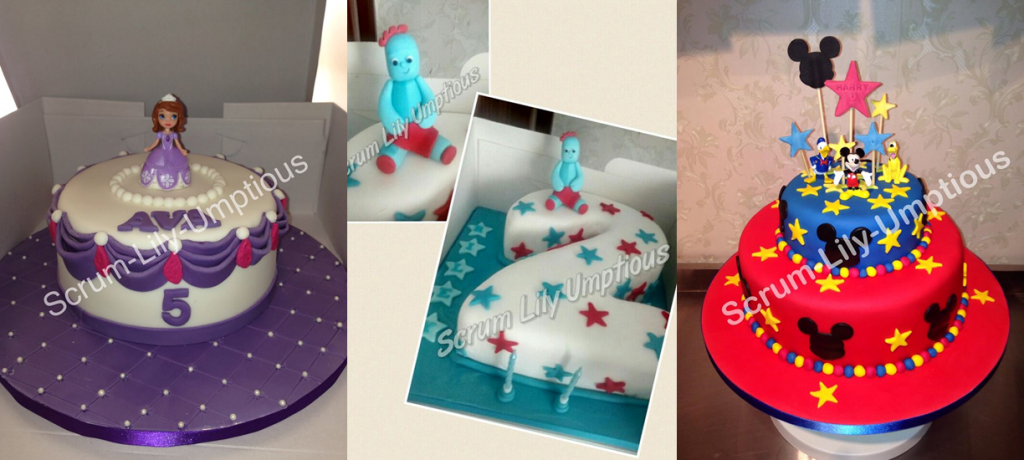 Review from one of our customers:
"Scrum Lily Umptious is not only a 5 star cake maker she is a life saver.  I was let down Friday night for my daughters birthday cake on the following Sunday.  I found her on Facebook messaged her and within 10 mins she replied and saved the day. The cake was out of this world exactly what I was looking for and taste amazing would recommend this lady to anyone and everyone."
Contact details:
Tel: 0161 478 3050 or 07572 672 483
Email: scrumlilyumptious@gmail.com
Facebook: facebook.com/scrumlilyumptious
Twitter: @scrumlily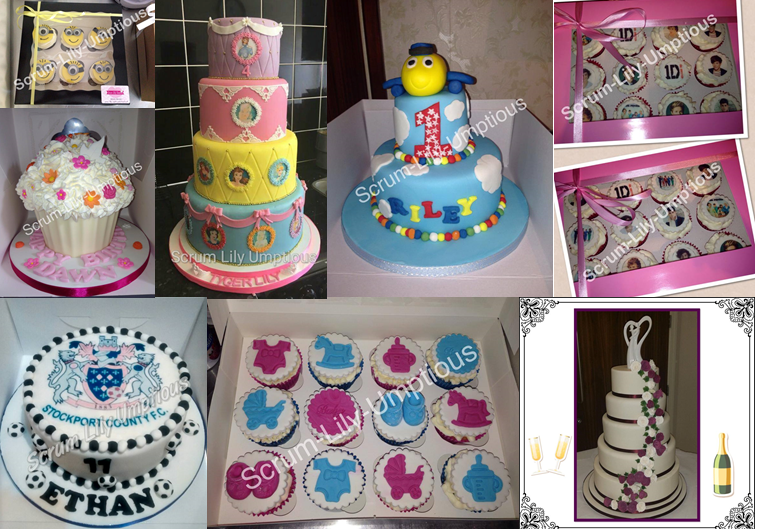 We offer a range of our ever-popular buttercream cakes, which can be decorated using rose style, palette knife, 'cottage pie' or a combination of these techniques. We can add a message, a printed image or sugarpaste decorations. We typically make these as a double layer cake although we can supersize them and make them triple layer if required.
Please give us a call on 07791850641
I am a fully registered self taught cake maker and create bespoke cakes for all occasions. I have been making cakes for the last 4 years and launched my business in June 2016. Based in Hazel Grove, I deliver to areas in and around Stockport.
Tel: Suzanne Roberts on 0781 425 6188
We meet our customers every request, from simple and elaborate, to whacky and classical designs.
We bake the traditional rich fruit and sponge bases or you can choose from chocolate, ginger, carrot cake or just whatever tickles your taste buds! Gluten free, dietary and egg free cakes are also available.
Give us a call to discuss your requirements or pop in to see us at work and have a chat!
35 Gorton Road
Reddish
Stockport
SK5 6AZ
T: (0161) 442 7581
Offerton based cake maker & decorator. Bespoke, novelty celebration cakes for all occasions & are all 'Homemade With Love'. We cover the whole of Cheshire & Manchester areas. As well as collection, we offer a delivery service too, either to your home or party venue – delivery is free within 4 miles of SK2 area!
Tel: Nicola on 07786545160
All of our cakes are individually designed so we can only give you a final price once we have discussed what you need.
As a guide a sponge cake filled with jam and butter cream and decorated quite simply with sugar paste would cost approximately:
| Size | Serves | Price |
| --- | --- | --- |
| 6 inches | 11-16 | from £25 |
| 8 inches | 20-28 | from £35 |
| 10 inches | 34-36 | from £50 |
| 12 inches | 50-66 | from £75 |
Tel: 0161 442 1108 or 07775715217
Cakes and cupcakes for all occasions, all made to specification as well as sweet cones and balloons.
Fully insured and council national food standards registered.
Tel: 07934 824764
Hand crafted cakes from a very well established Baker in stockport.  Based on Castle Street, Edgely.
Tel: 0161 480 1373
I provide cakes for all occasions and for special dietary requirements. I also run kids cupcake decorating parties.
Tel: 07870133556
289 London Road, Hazel Grove, SK7 4PS
We offer a range of celebration cakes, from Birthdays to Anniversary, Baby showers, Cupcakes , Corporate cakes  and Wedding cakes .
We offer a bespoke design service for our clients. We also offer Children's cupcake parties – more details about the parties can be found here. You will find us on all the social media pages and can have a look at our gallery for ideas on our novelty and wedding cakes we design.
Tel: 0161 456 6061
100's of cakes to choose from!
We give our customers a truly personalized service, from the flavor of our moist sponge cake to a rich fruity fruit cake, to the design you require on the cake, from the hat you wear, to the socks on your feet and there is no bigger delight for us than creating a smile on a customers face!!!
40 Market Street, Marple. SK6 7AD
Tel: 0161 449 8188
I'll work with you to design a cake around any theme, for any occasion and for any number of guests. Please look through the gallery on the website for ideas.
Tel: 07870466280